HVAC Upgrade in Annex Complete
August 29, 2017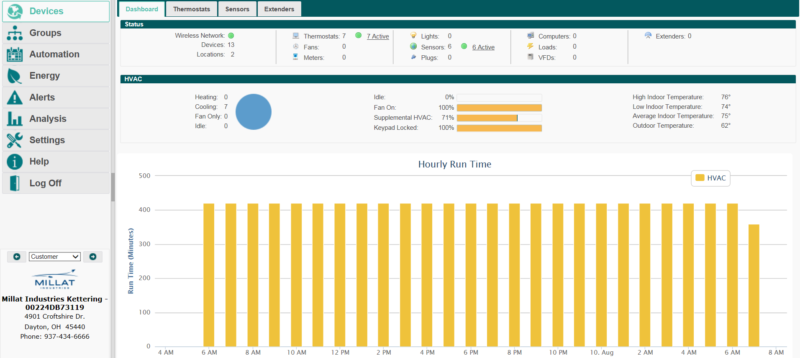 Millat Industries recently upgraded the HVAC equipment in the Production Annex portion of its Kettering facility. The Production Annex is a difficult space to cool due to the high heat load from process equipment. A University of Dayton Energy Audit determined that due to the high heat load, the building requires cooling until Outdoor Air Temperatures reach 38°F. This is an optimal scenario to utilize outdoor air to cool the building, made possible through economizers.
The new high efficiency units are equipped with enthalpy sensor-controlled economizers. Economizers allow the units to use outdoor air for cooling when conditions are appropriate, generally during the Spring, Fall, and mornings/evenings during the Summer. Since the mechanical cooling is not needed, the unit's compressors will shut down, saving substantial energy. When in economizer mode, the units use approximately 157kW less power (think 157 household microwaves!) compared to mechanical cooling mode. Assuming the economizers will operate three months of the year, the annual cost savings the economizers provide is estimated at $27,730 compared to units that would use mechanical cooling alone!
The upgrade also included an Energy Management System. This wireless system allows for control and monitoring of the HVAC equipment. This data can be used to determine equipment issues and report on trends and energy usage. In addition the system allows for wireless control of all HVAC units, allowing for setpoint reductions during non-work days, further increasing energy savings.